Licensed Asbestos Removals in Melbourne, Victoria
A Class Specialists
The removal of A Class asbestos needs to be done by professionals. There is a specific process so that the removal process is done under full containment. Work with a professional like Asbestos Removed so that you can be sure everything is done according to industry standards.
Hazmat Audits
Need your property to be audited in Melbourne?
Asbestos Removed complies with the local standards of inspections and audits. Book us and we'll survey your property. Each floor of the property will be inspected and surveyed separately. Only a trained and qualified professional should carry out the inspection. We'll closely scrutinize each floor and provide photographic evidence of suspected ACMs (Asbestos Containing Materials). Samples will then be taken of the suspected ACMs, and they will undergo microscopic analysis.
Clearance Certificates
We are a trusted independent supplier of Clearance Certificates in the Melbourne region. If you are a business, company or property owner who requires an asbestos removal job to be independently certified, contact Asbestos Removed.
We provide high quality and legally compliant reporting.
10 years of clinical hygiene experience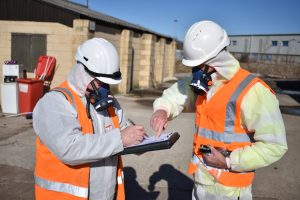 Domestic
Anywhere across Melbourne our highly trained workers can come to you and advise on your building. We know what to look for in your kitchen, bathroom, eaves and even your outdoor shed.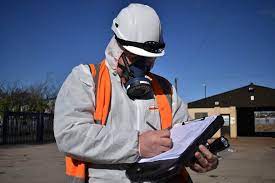 Commercial
Asbestos can be in a business's wall, roof, bathroom even their electrical switch box.
We can go over your building before you start any work to make sure there are no extra costly hold up when you have people contracted to be there.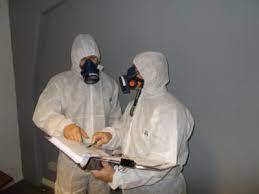 Industrial
Get in touch with us today for many of your asbestos removal requirements! While it may seem like a very simple task that most could handle on their own, nothing compares to the exceptional results. We cover all the industrial sectors across Melbourne, Victoria.
Articles
Learn how we protect your property from asbestos and gain other insights on the benefits of removing asbestos.
We pride ourselves in delivering world class service
Chris
"Andy and his team were professional, efficient and reliable, the three key things any great company should pride themselves on."
FAQ
Residential & Commercial Asbestos Testing & Removal Services in Melbourne, Victoria
Asbestos Removed has successfully removed asbestos from lots of homes and commercial properties all over Melbourne & Victoria. We all know that Asbestos is a hazard to an individual & the family, and the worst part is that anyone who is not an professional cannot tell whether it's present in your property or not. Your safety is our number one priority. So, rely on the professional and reliable team at Asbestos Removed to safely remove asbestos on your residential property, commercial or industrial building. Our asbestos removalists are more than happy to point you in the right direction when it comes to asbestos, so get in touch with us today for free quote.
We are leading in the asbestos removal industry for the following reasons:
High-tech equipment
Licensed, insured, & highly trained professionals
Highly cost effective
Licensed & qualified company
Free quotes
Safety & Risks
What is asbestos?
Asbestos is a naturally occurring material that was widely used in building materials up to 1987. It is commonly found in materials such as:

- Roofing, shingles and siding
- Fencing
- Exterior wall cladding
- Backing material on floor tiles and vinyl flooring
- Textured paints
- Water or flue pipes.

When such materials are left undisturbed they are relatively harmless. However, if the material is damaged or disturbed it may release fibres into the air which can eventually be fatal.
What are the dangers of asbestos exposure?
Asbestos is a known carcinogen. Even minimal exposure to asbestos fibres can be dangerous. Breathing in the fibres can lead to number of diseases, including pleural disease, asbestosis, lung cancer and mesothelioma.

However, just because a person is exposed to asbestos it does not mean they will develop an asbestos-related disease (ARD).

It is still unknown why some people develop asbestos-related diseases and other people, who may have had regular exposure to asbestos, may not.
What are the different types of asbestos?
Chrysotile (white asbestos) is the most commonly used form of asbestos. It can be found today in the roofs, ceilings, walls and floors of homes and businesses. Manufacturers also used chrysotile asbestos in automobile brake linings, gaskets and boiler seals, and insulation for pipes, ducts and appliances.

Amosite (brown asbestos) was used most frequently in cement sheets and pipe insulation. It can also be found in insulating board, ceiling tiles and thermal insulation products.

Crocidolite (blue asbestos) was commonly used to insulate steam engines. It was also used in some spray-on coatings, pipe insulation, plastics and cement products.

Anthophyllite was used in limited quantities for insulation products and construction materials. It also occurs as a contaminant in chrysotile asbestos, vermiculite and talc. It may have a grey, dull green or white color.

Tremolite and actinolite are not used commercially, but they can be found as contaminants in chrysotile asbestos, vermiculite and talc. These two chemically similar minerals can be brown, white, green, gray or transparent.
I am buying an older house. How do I know if it contains asbestos?
Many houses built or renovated before the mid-1980s were made from asbestos products. Have the house assessed by a qualified occupational hygienist or other suitably qualified professional.
Are houses with asbestos roofs safe?
Never walk on an asbestos cement roof as they are weak. If asbestos cement products are in sound condition and never disturbed, they do not pose a significant health risk. Weathered roofing requires replacement, as structurally poor roofing fails to be waterproof. A licensed asbestos removalist is required to remove and transport asbestos-containing materials.
Can I bury asbestos on my property?
No. It is unlawful due to the health risks should the material become disturbed in the future. It must be taken to a regulated facility that can receive and treat asbestos waste. Details are discussed further in the questions below.
Abatement
What is asbestos abatement?
Asbestos Abatement is the process of removing asbestos hazardous materials from a specific site.

Many buildings contain asbestos, which was used in spray-applied flame retardant, thermal system insulation, and in a variety of other materials. Asbestos was sometimes "flocked" above false ceilings, inside technical ducts, and in many other small spaces where firefighters would have difficulty gaining access. Structural components like asbestos panels were also used. In residences, asbestos was often a component of a type of flocked acoustic ceiling called popcorn ceiling or "cottage cheese ceiling".

Depending on how and where asbestos was applied, it might not pose any risk to most users of the building. If the fibers cannot become dislodged, they cannot be inhaled, and thus the asbestos poses no risk. However, some methods of applying asbestos, particularly flocking, allow asbestos fibers to gradually drop off into the air. Asbestos poses hazards to maintenance personnel who have to drill holes in walls for installation of cables or pipes. Even if the workers are protected, such maintenance operation may release fibers into the air, which may be inhaled by others. Interventions in areas where asbestos is present often have to follow stringent procedures.

When asbestos fibers can easily be made into airborne dust, the material is known as "friable". For example, a popcorn ceiling is extremely friable, whereas asbestos floor tile is considered non-friable. Friable materials, such as popcorn ceiling tiles, have a lifespan between 20 - 40 years plus; whereas non-friable materials, such as asbestos roofing tiles, have a lifespan of 50 - 100 years and beyond.
What is Class A (Friable) Asbestos Abatement?
Asbestos is classified into two broad categories i.e. Class A (friable) and Class B (non-friable). The friability refers to its level of softness. Friable asbestos contains materials that can be crumbled, pulverised, crushed, or reduced to a powder once pressure is applied by the hand.

We are licensed Class A asbestos abatement professionals who work according to your budget and requirements. You can trust our team to dispose of the materials according to the set guidelines. Our removal team is fully trained and licensed to protect both you and your loved ones.
What is Class B (Non-Friable) Asbestos Abatement?
Non-friable asbestos refers to asbestos-containing material mixed with hard bonding materials. You will typically find non-friable materials in cement sheeting, vinyl tiles, cement pipes, gaskets, billboards, as well as telecommunication pipes and pits.

We are a leading abatement company that specialises in the extraction of Class B (non-friable) asbestos. Our team has the equipment and techniques required to offer you quality, safe removal services. We serve residential, commercial, and industrial clients.
Extraction Process
How does the extraction process work?
Here is a brief guide to the procedure involved:

Identifying the Presence
The material is not identified by just looking using your eyes. It requires professionals (such as our company) that have received specialised training and have the necessary experience to do the proper risk assessment.

Risk Assessment
Our team of licensed professionals inspects the commercial establishment or house and collects samples that are sent to a laboratory for more analysis.

Diagnosing
If the material is present, it should be first evaluated before any further action is taken. If it is not yet damaged, it should be left alone. While it is not risky until damaged, it is still advisable to have it removed.

Abatement
Abatement experts wear protective equipment that's subsequently disposed of after the job is complete. Once it is removed successfully, it should be wrapped in a plastic bag twice and properly labelled.

Disposal
Material that's found should be disposed of together with the protective gear, clothing, and apparatus used in a proper waste facility.

Why Is Extraction Important?
Testing and extraction is something you should consider whether you are planning to renovate an older property or are concerned about the safety of your property. Here are some of the reasons why it is so important:

It May Be Required By Law
Law may sometimes require extraction. For instance, if you plan to renovate an older building or demolish a property, an asbestos inspection will be required. If your property is found to have the material, the contaminated areas will have to be cleaned before the project proceeds.

It Affects Your Health
Fibres are very damaging to health. Continuous exposure to fibres is linked to several fatal health conditions that include mesothelioma, asbestosis, and even lung cancer. If you have extraction by an experienced contractor you can have the peace of mind that comes with knowing that both you and your loved ones are protected from the threat that contamination poses.

It is Widely Present
The material is a toxic substance that's widely present in buildings and homes across especially those built before 1980. It is estimated that over 30 percent of the buildings in Australia contain the material. If your property is contaminated, immediate extraction is necessary.
Commercial / Industrial Extraction
Asbestos in the workplace is one of the leading causes of death due to work-related illnesses in Australia. We work with commercial and industrial entities to create healthier and safer workplaces as well as protect workers on demolition and construction sites.

If you have the material in your workplace, you are legally obligated to protect contractors and employees from any risk it might cause. We can help you formulate a plan that ensures the safety of your employees as well as your compliance with the law.

We are licensed experts in the efficient and safe extraction of the material from all types of commercial and industrial entities. Our trained and experienced staff perform both small-scale and large-scale removal work at commercial and industrial premises.

Our Commercial and Industrial Extraction Services Include:

- Decontamination of contaminated soil and sites
- Cladding
- Insulation
- Roofing sheets
- Pipe and lagging
- Ceilings
- Clean-up following damage or fire
- Flooring

If you are concerned about the material in your commercial or industrial premises, you should talk to us before you start any demolition or construction work. We can do thorough testing. We will identify all the sources in your workplace while reducing the contamination risk.
Residential/Domestic Extraction
The material is something to be concerned about if you are a Melbourne homeowner. If your home was built prior to 1990, chances are it contains the material in some form, which may pose a serious health risk to both you and your loved ones.

If the material is in your home then it might not pose a threat right now, but it could be dangerous if disturbed by demolition or renovation work, earthquakes, fire, or other causes.

The material has various forms since it was widely used in a variety of building materials. It can be found in linoleum and vinyl flooring, textured ceilings, cladding, flashings, guttering, fibrous cement roofing, pipes and insulation, wall linings, among many other materials

If you fear that the material is present in your home, talk to us about testing and extraction. Our top priority is to protect you and your loved ones from the dangers of exposure and we never compromise on safety.

We understand that you want to get back into your home as fast as possible and expect a high-quality finish too. You can trust us to carry out quick, efficient, and professional removal work, with little to no disruption to your daily life.

Our fully trained technicians use the right tools, equipment, and practices to make sure that the material is extracted safely from your home. We also ensure that things are put right again thanks to our experienced team of painters, plasterers, and builders.